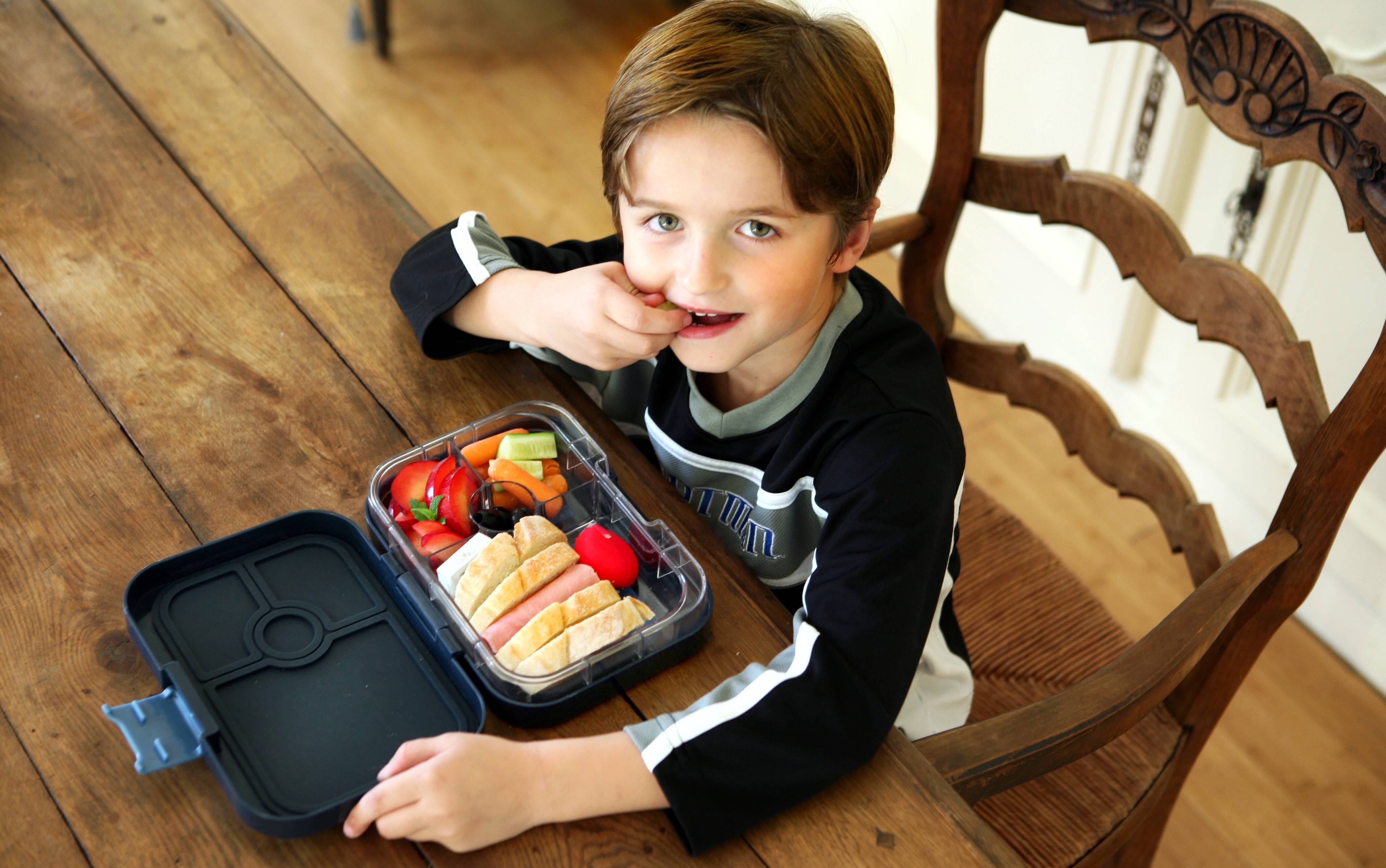 Information
Micro Step BV
Binnen Brouwersstraat 36
1013EG AMSTERDAM
Nederland Open in Googlemaps
Yumbox Benelux distributeur


---
Frequently asked questions
1.1

Which age is Yumbox suitable for?

The Yumbox Original is designed for children from 0-10 years old. That does not mean that adults cannot use it. We receive a lot of feedback and images of healthy work lunches.

The Panino version is intended for children up to and including adults. It is fantastic for sandwich eaters because double sandwiches easily fit. As an alternative to the adult lunch, a hearty salad or leftovers from the night before is perfect in the 2-compartment section and snacks in the two smaller sections. Consider the money that you save compared to the average working lunch (easily € 10)!

The Yumbox Zuppa insulated pot is suitable for all ages.

Yumbox Tapas, with its innovative interchangeable 4 and 5 compartment trays, is designed for both adults and teenagers, or for children who want larger portions.

The MiniSnack is, well, for snacks. Many customers use a MiniSnack for their children's snack or playing time and an Original or Panino for lunch.
1.2

What are the dimensions of each Yumbox?

Both the Yumbox Original and Panino have the same dimensions.
They have a compact size of 21.5 x 15.5 x 5 cm. Weight is 505g.

MiniSnack 15.0 x 10.5 x 5.0 cm weighs 280 g

Original 21.5 x 15.5 x 5.0 cm weighs 505 g

Panino 21.5 x 15.5 x 5.0 cm weighs 505 g

Tapas 24.5 x 17 x 5.0 cm weighs 627g

Zuppa 12 x 10 cm weighs 408 g
1.3

Which Yumbox is suitable for me?

Yumbox Original - 6-compartment tray is perfect for:

• Picky eaters - everything is small and visible

• Variation - bread-free lunch

• Snacks - each section can contain different snacks to be eaten during the day

• Weight-oriented adults - Perfect portions, pre-packaged, help you stay on track to lose weight

Do sandwiches fit in? Yes, cut in half, you can place them on their side

Waterproof? Yes, grab yogurt without leaking.

 


Yumbox Panino - tray with 4 compartments is perfect for:

• Sandwich lovers - kids love a sandwich, the Panino is perfect with extra space for snacks

• Older children - this compact Yumbox is also perfect for high school students, it fits easily in the school bag

• Adults - pack salads, wraps or leftovers for work or school

Do sandwiches fit in? Yes, easily. Perfect for sandwiches, wraps and salads.

Waterproof? Yes, add yogurt without leaking.

 


Yumbox Tapas - 4 or 5 interchangeable compartments tray is perfect for:

• Flexibility - with its leading innovative interchangeable tray, it offers the flexibility of 4 or 5 servings of meals. One day sandwiches, the other day salads and mourning crust!

• Older children - Perfect for high school students or children who are not satisfied with the portion sizes in the Original or Panino style t

• Adults - pack salads, wraps or leftovers for work or school

Do sandwiches fit in? Yes, easy. Perfect for sandwiches, wraps and salads.

Waterproof? Yes, add yogurt without leaking.

 


Yumbox MiniSnack - 3-compartment tray is perfect for:

• Snacks - ideal for snacks or snacks en route

Do sandwiches fit in? A double-fold sandwich just fits in, but this is a bit of stuff. Perfect for half a day at school.

Waterproof? Yes, add yogurt without leaking.
1.4

Which portions are suitable for your Yumbox?

Yumbox now has four designs to make packing lunch easy for everyone!

The Yumbox Original 6-compartment tray is perfect for toddlers up to 10 years of age who love variety. It offers space for five portions of the five main food groups plus a 30 ml dip. In total it contains 3½ cups. The illustrated trays help to pack healthy balanced meals.

The Yumbox Panino 4-compartment food tray is sandwich-friendly. This is a great option for children and adults of all ages who prefer to have lunches with sandwiches and salads. It has one large sandwich format section with two smaller ½ cup compartments plus a 30 ml dip compartment. Both designs are compact, leak-proof and child-friendly.

The larger Yumbox Tapas is designed for adults and large children, it is perfect for a packed lunch at school and adult meals due to its innovative removable inner tray. Tapas 4 compartments has a volume of 4 compartments: 1 x 2⅔ cup, 2 x ½ cup and 1x ¼ cup (for dips). Tapas 5 compartments has a volume of 4 compartments: 1 x 1½ cup, 1 x ¾ cup, 2 x ½ cup, plus a ¼ cup for dips.

With the Yumbox MiniSnack you can easily pack snacks for on the road or snacks. It comes with a large ¾ cup box, a smaller ⅓ box plus box for dips.

Also view our Facebook and Instagram pages for healthy ideas for lunches!
1.5

Are Yumbox trays interchangeable?

Not all trays are interchangeable, because the seal must fit in the outer box.

The Yumbox Tapas outer box is suitable for a tray with 4 and 5 compartments. Super handy!

Although Original 6 Compartment trays fit in outdoor boxes with the Panino 4 Compartments and vice versa, they will not create a seal and are not a perfect fit to prevent leakage or spillage.
1.6

Is Yumbox leakproof?

Yes. Yumbox is a leak-proof container. Yumbox's silicone inner lid creates a tight seal that keeps the food in place, including thicker wet food like yogurt and apple sauce (no water). Food does not leak between compartments or outside the box. Fill each compartment up to 3/4 full to get a good seal.
1.7

How do I pack wet food?

Yumbox is designed for packaging wet food, but not for liquids, such as water. To ensure that the food stays in place and does not leak to other compartments, you must follow 4 simple steps as described below:

1. Do not overfill compartments (3/4 full)

2. Remove excess liquid from canned fruit, apple sauce and yogurt

3. Keep the contents cool by adding a packet of ice to your lunch bag

4. When closing Yumbox, press the lid with the palm of your hand and click the latch in the closed position to create the best seal

Do not pack yogurt drinks, soups or liquid / aqueous dressings. Pack food with the consistency of ranch dressing, ketchup, hearty salsas, hummus, yogurt, and veggie dips. These are all great options. Some oily vinaigrettes can leak out of the immersion cavity. A trick that can help keep vinaigrettes in place is to dress up the salad and cover it with a few croutons. The croutons absorb excess oil / liquid and prevent the vinaigrette from seeping into an adjacent compartment.

If you are unsure whether your food choice is too fluid to pack, we recommend that you perform a quick test before sending your child to school with that food. Simply add the test food to a compartment, close the Yumbox well and shake it a few times well (or leave it on its side for 10 minutes). Return the Yumbox to the normal position and open to check the results.
1.8

Can I pre-pack a Yumbox the night before and store it in the fridge?

Yes. Yumbox acts as an excellent storage container. The seal keeps food fresh in the fridge for days. If warm dishes are placed inside the refrigerator, the Yumbox will close very tightly due to the condensation. To break the seal and ensure that the Yumbox tray does not stick to the lid, open the Yumbox very lightly and grip the tray firmly so that it stays in the lower part.
1.9

Is Yumbox thermal or insulating?

No. Yumbox is not made of thermal material. If you are adding foods like yogurt, which should be kept cold, we recommend packing Yumbox in an insulated bag with an ice pack to keep the contents cool. Yumbox Zuppa is a triple insulated stainless steel thermo food jar.
1.10

What is this product made of?

Yumbox is made with ABS polymer (outer box), TritanTM (tray) and silicone (seal). All materials are food safe, BPA and phthalate free and comply with CPSIA and FDA.
1.11

Is using a Yumbox environmentally friendly?

Yes, this product helps to reduce waste because you do not have to use plastic bags etc at lunch. Reducing this waste helps keep our planet beautiful.
1.12

What is the origin of the Yumbox range?

Co-founders of Yumbox, Maia and Daniela are from the US and France. The production takes place in a responsible manner in China.

Micro Step BV (also known as Yumboxlunch.nl and Yumbox Benelux) is the authorized distributor of Yumbox in the Benelux.
1.13

How do I best look after my Yumbox?

Yumbox is dishwasher safe up to 65 ° C (top rack only). We strongly recommend that you wash the outer box by hand or use a dishwasher, but take it out for heat drying cycle. Most dishwasher temperatures are a guideline only, and actual temperatures may fluctuate by up to 20 ° C. Yumbox is designed with rounded corners and smooth surfaces for easy hand washing.

Let it dry after washing and keep it in an open position when not in use for a long time.

We advise everyone to use their own judgment if you want to put it in the microwave.

Yumbox has a limited manufacturer's warranty for defects. Damage caused by overheating in a dishwasher is not covered under warranty (you should only use the top rack), this includes misuse or abuse.
1.14

How do I replace the clip/latch?

Replacement closing latches can be purchased here if you need to replace this Yumbox part.

Instructions on how to install a new handle:

Before you start, use the included mini screwdriver to push the pin on the right out slightly to make the process easier when you're ready to tighten the lock
If you have trouble moving the pin, keep it in a mug of boiling water for a minute. This will cause the plastic to expand somewhat, allowing the pin to move more freely
First insert the pulled out pin on the left, align the second pin and push it into place with the included mini screwdriver.